Design thinking
Architectural facade trends – metal mesh
Architects can choose between a variety of materials to create stunning and artistic facades. A new trend is the use of aluminium to design perforated lace-like facades. Besides looking great, these facades improve thermal performance by creating a second layer to protect it during sunny days.
Metal as a cladding product is on the rise in both interior and exterior applications. This is probably due to its versatility and the ease to customer fabricate it. Unlike many other materials, metal can be folded, stamped, perforated, etched and coated in almost unlimited ways.
Let's look at how aluminium can be used as a decorative and functional part of a facade.
Industrial processing
Aluminium is a metal that offers endless opportunities for facade design, and extrusion as a manufacturing technique is ideal for this purpose. Extrusion is a process used to create objects of a fixed cross-sectional profile, where a material is pushed through a die of the desired cross-section.
The two main advantages of this process, compared with other manufacturing processes, are its ability to create complex cross-sections and to work materials that are brittle, because the material only encounters compressive and shear stresses. It also forms parts with excellent surface finish.
Extruded profiles used for facades can be industrially processed through working operations such as milling, drilling, thread milling and tapping, as well as cutting and notching. Using the right machinery protects even sensitive profile surfaces against scratches and other damage. In this way, there are almost endless opportunities to create facades that are both functional and beautiful.
And when you use the surface technique anodizing, which offers a wide range of colors, you can design and create an endless number of original architectural facades.
Get a green profile in your building
Architects have long been using aluminium profiles for windows, doors, railings and roofing. The metal's positive cradle-to-cradle life cycle and its contribution to making buildings more energy efficient are two reasons why. There are other good reasons for choosing aluminium:
Aluminium profiles are weather-proof, corrosion-resistant and immune to the harmful effects of UV rays, ensuring optimal performance over a long lifetime. Surface treatment improves the outstanding resistance to corrosion even more.
Aluminium's impressive strength-to-weight ratio makes it possible to design light structures with exceptional stability. It provides architects with the means to meet required performance specifications, while minimizing expenditure on foundations.
Aluminium is highly adaptable and designable and it can also be endlessly recycled, so when a building is renovated or demolished, the aluminium can always be used again. Aluminium is one raw material where there is no lack of supply. With today's environmental considerations, this is an important aspect for architects, who are increasing their use of aluminium in their work to design "greener" buildings.
Great examples of metal mesh in Britain and New York City
The British company James & Taylor has established a reputation for its innovative use of metal products in metal facades. They use aluminium cladding solutions that give a striking architectural finish. They've used these on the Stirling Prize-shortlisted Young Vic Theatre and on the New Museum of Contemporary Art in New York. James & Taylor is using extruded aluminium sections from Hydro to create the claddings.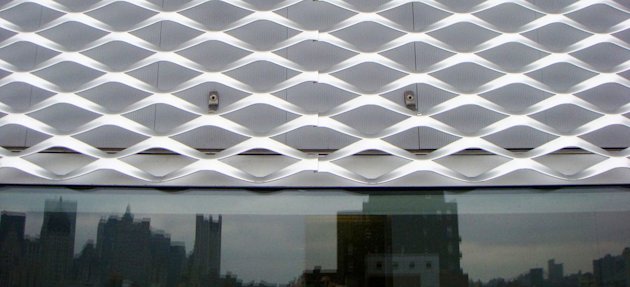 Another example in England is the brilliant aluminium facade of the Library of Birmingham, which uses an arrangement of interlaced aluminium circles in two colors to cover the facade. The black circular profiles measure 5.4 meters in diameter, and the underlying silver-colored rings measure 1.8 meters.
The building was designed by the Dutch studio Mecanoo Architecten.
Interested in learning more?
Contact us about using aluminium in your facade design!