Expert thoughts
Aluminium profiles as roof strengtheners
Jaguar has been successful in designing for aluminium and for bringing lightweight vehicle technology to its platforms. Let's take a look at the Jaguar XJ, which is almost completely built in aluminium, and in particular its longitudinal roof strengthener, known as the "A" post or cantrail.
The cantrail, which Jaguar developed in collaboration with the former Sapa, now Hydro, is made of a combination of aluminium panels and a hydroformed aluminium profile sub-assembled together. (The red markings show the cantrails' location.)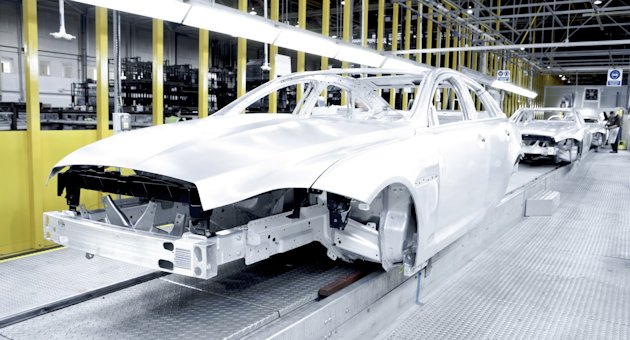 Its weight is 3.72 kilograms, compared with 7.07 kgs for the steel-based solution used in the previous model. With two two cantrails per car, one on each side, the weight advantage amounts to 6.7 kgs. Another significant benefit is that the high-strength aluminium construction lives up to the same requirements as the steel structure it replaced. And in at least one respect, the new cantrail has contributed even better performance: The XJ's rollover protection passes tougher requirements.
Assessing life cycle
Before making their decision to substitute with aluminium, Jaguar's engineers performed a life cycle analysis using the Environmental Priority Strategies (EPS) method. The total environmental impact for the steel-based cantrail design was larger than with the aluminium solution.
They based their calculation on a steel panel composed of 15 percent recycled materials. The corresponding figure for the new solution was 10 percent recycled materials for the aluminium profile and 50 percent for the aluminium panels.
Just by using the aluminium cantrails alone, the XJ will show a lifetime reduction in carbon dioxide emissions of 3,132 tonnes, based on expected total production volume and average car mileage.