Sustainable design
The Cleanest Dirt Bike Ever
I was excited to know that we at CAKE, a Swedish company dedicated to creating premium lightweight, electric motorcycles and mopeds, are joining hands with Hydro on our innovative project, together with Vattenfall - 'Cleanest Dirt Bike Ever'. Our aim? We want to minimize the carbon footprint in our industry and inspire others to do the same.
Our ambition for this collaboration is nothing short of grand. We're committed to creating the cleanest motorcycle in history, by decarbonizing the production chain of the electric CAKE Kalk OR by 2025. We see this as more than merely an initiative, it's a challenge to the entire automotive industry to innovate and reduce carbon emissions through smart and more sustainable partnerships.
When it comes to choosing the right material, aluminium is the main material for all CAKE motorbikes, because of the material's lightweight and robust nature as well as its non-magnetic properties.
However, there are cons to using aluminium. For the Kalk OR, aluminium parts account for 27% of production emissions with an extra 7% stemming from the aluminium in the battery, motor, brakes, controller, and suspension. This equals 34% of the bike's total footprint, so to create the 'Cleanest Dirt Bike Ever', we had to find a cleaner aluminium solution.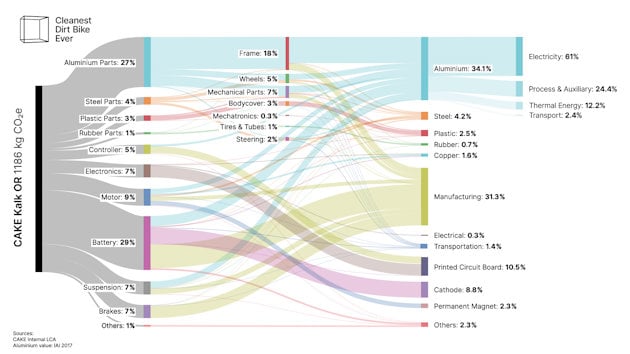 We were after a partner who had the technology for cleaner products, access to cleaner energy, transparency about their carbon footprint calculations and methods, and proximity to our home base to minimize long-distance shipping. This is where Hydro came into play. They're joining us as a crucial partner, set to supply aluminium parts made from up to 100% recycled post-consumer scrap, potentially shrinking the aluminium footprint in the Kalk OR by 77% to 97%.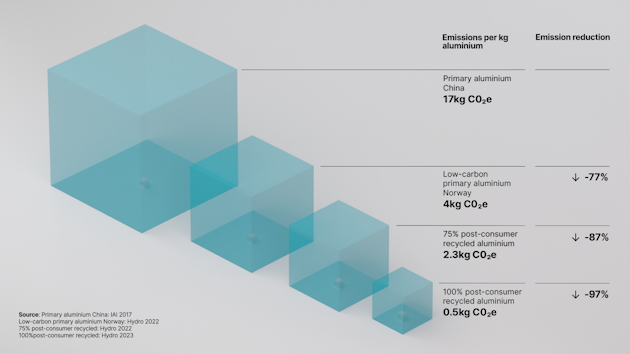 But Hydro's involvement goes far beyond material supply. They're also sharing their EcoDesign and engineering expertise to help us optimally adapt our bike to the available alloys and potentially expand the use of extruded aluminium. Personally, I am up for the challenge of implementing cleaner aluminium solutions in our high-performance bike and the potential opportunities and hurdles along the way.
Our partnership with Hydro is an important milestone in the 'Cleanest Dirt Bike Ever' project. Their commitment to achieving net-zero emissions by 2050 or earlier Is not just impressive but needed for the industrial transformation that this project is trying to convey. Their aspiration to be a leading contributor to near zero-carbon aluminium by 2030, specifically their presented pathways towards 2025, aligns perfectly with our project vision. Together with Vattenfall, we're confident that we can push the boundaries of what's possible and lead the industry towards a cleaner and a more sustainable future.
This project isn't just about producing one bike, it's about transforming how all vehicles are made. Our ambition is to make the most fossil free vehicle, ever produced by 2025, removing carbon emissions from every stage of the production process for the CAKE Kalk OR. We believe that the automotive industry has a massive responsibility to lead society towards a zero-emission future, and that means more than just how vehicles are powered. It's about transforming the entire production chain, and we're proud to be leading the way.