Design thinking
Making the material shine
When Konstantin Grcic invites me to take a seat, I feel flustered. Should I take the standard office chair in front of me or the designer chair with thin legs, one of his creations, farther away? In the end I opt for the ordinary chair. I can still stare at some of the innovative creations in his two-floor studio in Munich, even if I feel too humble to sit in one.
This is the chair that secured Grcic's place among the top industrial designers worldwide. Chairs like this one reside in the collections of such international museums as the Museum of Modern Art in New York and Centre Georges Pompidou in Paris. What's more, the chair encapsulates much of what Grcic likes to do. "It's a very radical approach to furniture, but ultimately it is also an industrial and therefore a commercial product," he says. "This is what I try to make possible: translating a radical idea and turning it into an industrial product."
Lightweight aluminium
The designer often uses aluminium for his work. It appeals to him for several reasons. "For one, it's lightweight, which is a great advantage for handling the material, for shipping and for the end user. Moreover, aluminium is warmer and softer in touch than steel. It allows for distinctive surface treatments, such as a brush or satin finish, and its silvery-white color makes for a good display.
"It's a material in my field that, when we use it, we try to show it," he says. "That's not true of all materials."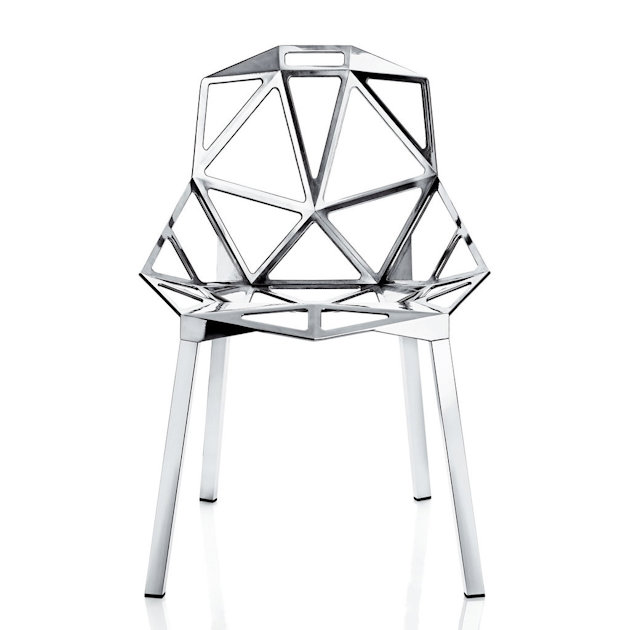 Furthermore, aluminium doesn't corrode. "It's a material that we can use indoors or outdoors," Grcic says. "It's interesting how it seems to work in both places, unlike concrete, for example, which people associate with the outside." 
Aluminium extrusions interest him as they involve a highly industrial process at an affordable price, producing a high-quality result. His first serious project with extrusions was Table_B, created for BD Barcelona Design. Table_B's thin tabletop is made of extruded aluminium, evoking the shape and lightness of an airplane wing.
"I use aluminium extrusions a lot," he says. "I like that they can be ordinary round or square tubes or can be used to make the most intricate and complex shapes, which can also fulfill functions."
Designing for life
Grcic trained first as a furniture restorer and then as a cabinetmaker. Even during his apprenticeship, however, he was drawn to production processes. "What appealed to me was the machine as a tool, making things precisely in batches," he says. "That led me to become an industrial designer, where we develop products to be produced in quantity. We design products for people, for society, for life."
Some of Grcic's creations live with him, he says. "I want to find out if the final product really works, not just in its practical use but in an environment in relation to other things."
His passion for furniture is transparent. "Furniture is such a beautiful thing," he says. "It's so old but forms so much of our daily life. I'm not working in the most innovative environment, but I can still be very innovative within that environment."
Interested in learning more?
Contact us about using aluminium in your product design!