Expert thoughts
Innovative aluminium product applications for the 'social distancing society'
It has positively surprised me how innovative people can be in times of crisis. They rediscover themselves and find new ways of working.
Today, people are traveling less and meetings are held remotely. Companies that have been affected by the novel coronavirus measures are coming up with new applications for their products. Stage builders at festivals, for example, are suddenly making ergonomic workplaces, stand builders are using their products as partitions in offices and in the catering industry, I see greenhouse systems being used to make small covered terraces.
I am seeing examples constantly, of products that solve the new "challenges" of the social distancing – or, 1.5-meter society – such as distance screens, mudguards or disinfection columns. What in the first weeks were mainly emergency solutions with wooden slats, plexiglass and pieces of tape, are now more and more products visible with a professional appearance.
It is nice to see that extruded aluminium profiles have been used in many of these products.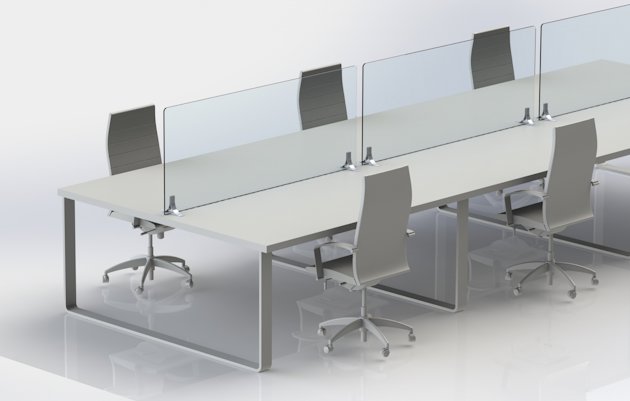 Aluminium is perfect for these applications
Aluminium extrusion lends itself perfectly to these kinds of applications. For several reasons.
Aluminium profiles are lightweight, strong and easy to clean. By designing a profile smartly, you can incorporate all kinds of functionalities, such as click functions, screw channels and nut slots into the profile. This gives you the possibility to create a modular system that is easy to assemble.
The freedom of form allows you to design a profile that fits perfectly with an existing product. Think, for example, of a screen that you place on top of an acoustic screen in the office.
In certain sectors, such as the hospitality industry, appearance is also important. You don't want a separate screen between each table, but a subtle solution that is part of the whole. This is also very possible with extruded aluminium. You can, for instance, anodize the profiles black or provide them with a coating.
The last few days I have worked out several product ideas, and the possibilities are endless. Which applications for extruded aluminium do you see?