Material properties
Why aluminium plays an important role in façade construction
The special properties of aluminium make the hearts of architects beat faster – mine included – and that is why the metal plays an important role in façade construction. Let me share my vision on how this role will further develop.
My first project with aluminium in façade construction came about in 2015, when we were commissioned by LuxEnergie in Luxembourg to design a building ensemble. The ensemble would consist of a cogeneration unit, an office building and an administration building. We were also asked to design a silo, where pellets for the cogeneration unit could be stored.
We quickly looked at giving the purely functional building a special meaning, from an urban planning perspective. And to ensure that the ensemble of buildings would not appear too massive, we wanted to create a significant contrast.
As a result, we chose aluminium as the material for the exterior façade and created a unique design.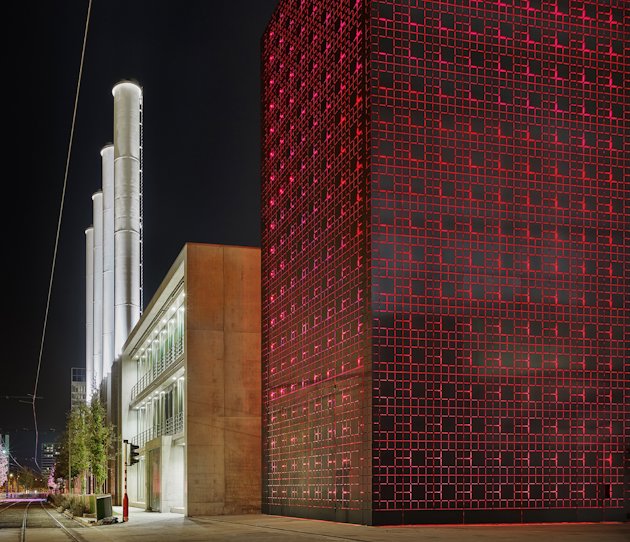 Aluminium brings key properties to the design of façades
When looking for the right material for your building, the first thing you must do is distinguish between load-bearing façades and curtain walls.
Load-bearing façades are made of concrete or stone and, consequently, they look heavier. Curtain walls, on the other hand, offer other design options and have a much lighter appearance.
Here, aluminium is 100% suitable and its use saves an incredible amount of space and weight. In addition, aluminium always looks noble, as it retains its shape and color for many years. Compare that to a wooden façade, which, in our humid climate, needs to be renewed every 10-to-15 years.
This is important from an architect's point of view, because I can be sure that my design, idea and vision for a building will stay that way for a long time when I use aluminium.
Visually interesting effects with aluminium
Actually, the material question comes up right at the beginning of a project. I have to know which material I want to use from the very first stroke. If I'm planning a massive building, I'll choose concrete or another material. If I want to achieve a lighter appearance and visually interesting effects, then I express this with aluminium.
Of course, certain aspects demand special attention. As with all materials used in the construction of buildings, aluminium has its own distinctive features. In the case of the silo, for example, when designing the façade with joints, we had to investigate how much aluminium contracts in cold weather and expands in heat. But these are factors that can be planned rather easily and overcome.
A more modern look with aluminium, compared with other materials
As I mentioned, appearance is one of the aspects that help make aluminium the material for future buildings. But there are others.
First, I think you should consider how aluminium can support your work as an architect in terms of space-saving. By this, I mean that walls can be made much thinner, which then allows me to get the maximum size out of an interior, even if the property is limited in size. These are important aspects that also apply to modern housing construction.
It is a pity that, until now, aluminium has mainly been used in the design of industrial buildings. I think builders ought to be much more courageous in the future.
Interested in learning more?
Contact us about aluminium solutions for building and construction.