Sustainable design
How the love of Italian cuisine influenced a timeless aluminium bench
As the name implies, BELLO! is a collaboration between myself and Hydro. Collaborating with a manufacturer like Hydro, with their know-how and history, has been on my bucket list for a long time, and I am excited that the results of our endeavors can finally be shared.
I had been thinking about making a bench for years, due to benches being a bit different than other seating furniture. They are open and facilitate interaction between everything from strangers to family and friends. They're an open invitation for a shared experience, which I find truly beautiful.
When it came to choosing the material for the bench, there was no doubt in my mind that aluminium was the way to go. As a designer, it is my responsibility to think about the entire life cycle of a product, and aluminium is one of the most sustainable materials available. Not only is it 100% recyclable, but it also requires much less energy to recycle than it does to produce from scratch.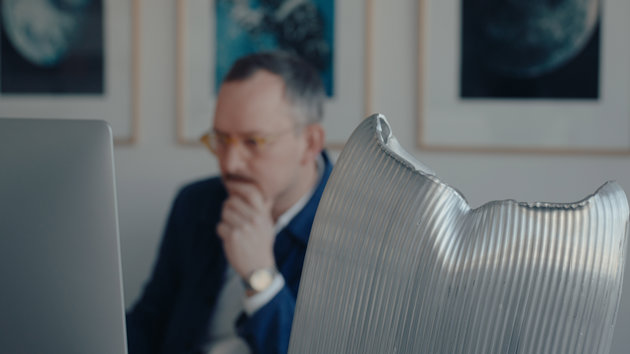 Additionally, aluminium is incredibly durable and lightweight, making it ideal for a design like this that is meant to last for decades. I also learned that it could withstand harsh weather conditions and is resistant to corrosion, meaning that it can be used both indoors and outdoors without deteriorating over time.
When researching aluminium extrusion, I quickly came to the conclusion that extrusion is in many ways the optimal production technique. It is a material and a production method fit for the future. It is an additive process, based on renewable material, that when done right requires little to no subtractive machining. And the small amount of waste material that is generated can easily be melted down and used again.  
Built-in tactility
With this design I wanted to emphasize the possibilities that lie within aluminium extrusions. Design features that normally would drive both cost and production time up, can simply be implemented into the extrusion tool, allowing more room to play with form and expression.
The subtle ridges add immense value to the design. You just have to run your fingers across the surface to realize that. These rare tactile discoveries mean so much to me and I believe that it is a universal experience. The design is a culmination of everything I appreciate from planes, trains and buses that were designed in the 1930s-70s to brutalist architecture, to of course ... pasta! The bench's unique design was heavily influenced by my love for Italian cuisine, particularly penne rigate, which inspired its pasta-like appearance – reminiscent of a somewhat exaggerated version of al dente pasta.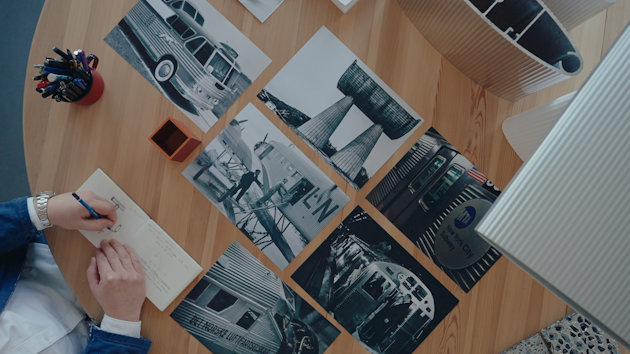 The anodized surface brings the piece to life. The velvet-like finish can be done in an endless array of colors and be customized to the customer. Anodizing complements the ridges that run along the surface and brings out the inherent tactility of the bench.
Built for the future using materials from the past
The result is a bench made from at least 90% recycled material, which puts it in a league of its own. There are no signs of its former life – perhaps as part of an engine or window frame – in the finished product, and the bench is 100% recyclable and adapted for both indoor and outdoor use. The design is a delicate balancing act between achieving a lower C02 footprint, a long-expected lifespan and a form and functionality that transcends time and style. I aimed toward creating something that should be able to not only last, but something which also fulfills its purpose for hundreds of years to come.
With its versatility, this bench is in many ways a chameleon. It can slide into a variety of contexts, including public places, airports, museums, transit, and even private residences. It has the characteristics to be a centerpiece in one environment, and quite anonymous in another. It is both logical and uncompromising. Additionally, chargers and integrated heating can easily be integrated and replaced as technology advances. It therefore might sound like a cliché, but the opportunities are seemingly endless. 
In conclusion, I believe that the BELLO! bench is a product that embodies the essence of timelessness, durability, and more sustainable design. Designed with the future in mind, BELLO! is a testament to the power of collaboration between designers and manufacturers, showcasing how the combination of know-how and creativity can come up with a product that transcends time and style.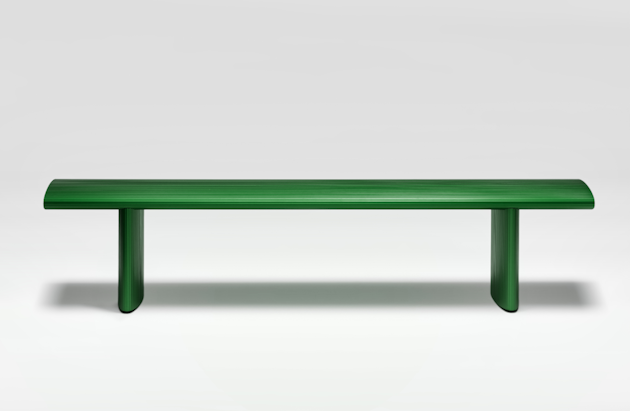 The all-new green Bello! will be making a statement of style and innovation at the Material Matters showcase at OXO Tower, as part of this year's London Design Festival. Find tickets here.
Contact us to explore the opportunities in designing with extruded aluminium!