Design thinking
How unexpected collaboration, and a pandemic, helped shape an e-vehicle for urban transport
The idea with Re:Move was to design an electricity-driven vehicle, built in aluminium, conceived as a transporter to carry and deliver goods over short distances, like last-mile delivery. A vehicle stripped down to the bare necessities. Simple technology. Re:Move may not have worked had the project team had a real plan.
This story is about collaboration between experts in fields who normally do not meet, and how thoughtful design and smart manufacturing and material selection can meet some of the world's biggest challenges. It is about Re:Move – a small but multi-functional electric transporter for the city of the immediate future, commissioned by Wallpaper*, designed by Konstantin Grcic, engineered by Polestar and Hydro and powered by CAKE.
So how did it start? It started when Wallpaper* Magazine asked Grcic to design a product with a focus on industry collaboration and sustainability, with a partner they were thinking about – Hydro.
A flexible material, aluminium is an interesting material for a designer to work with, and as you know, material choices have a huge impact on environmental impact. The light metal also works indoors as well as outdoors, so you aren't bound to just one world.
Creativity with friction stir welding of aluminium
Just before starting the project, Grcic – the industrial designer – poked around a little deeper into the material. He learned about friction stir welding and what one could do with it, using aluminium extrusions and a system of welding them together to create big and strong, and very light platforms. In fact, the fundamental thing that inspired Re:Move was this idea of friction stir welding.
This idea of a beautiful aluminium platform was the image that stuck with Grcic. A light and strong platform that could be made movable and put on wheels.
This was how Re:Move started.
Covid pandemic impacts Re:Move in positive way
Interestingly, the Covid pandemic impacted the project in a positive way. Project meetings were held every week. You had Hydro with its aluminium expertise, CAKE with the electric drivetrain, Polestar building the chassis, Grcic as the designer, Wallpaper involved. The remote working scenario worked well.
In normal times, getting eight people together on a weekly basis would be impossible. But with the pandemic, it became both possible and productive, efficient and enjoyable. Maybe even the ideal scenario of a design process. An organic process where every new decision has an implication on the next decision, where you really grow something.
Like a baton in a relay race, where you take it somewhere and then pass it to someone else. A beautiful way of making things better. A good and healthy approach.
Using aluminium to build a modern vehicle
Re:Move has a simple construction, a platform, and another board on top of it where the driver is positioned. Two boards put at right angles with each other, connected.
Eco-design was part of the project from the start. Aluminium has certain properties which are very attractive in this work. It is light, and lightness is a strong argument for sustainable projects. It is durable and has a long life cycle. It is recyclable. And it can be manufactured in many ways, like with extrusion or casting, which provides a lot of freedom to design.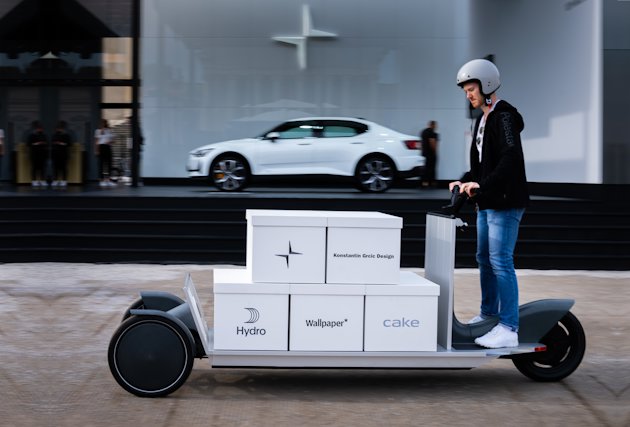 Unexpected collaboration leads to Re:Move success
Re:Move exemplifies some of the solutions that we now need in areas with a lot of traffic and pollution. Think about smart mobility, good design, positive user experience.
Maybe just as important is seeing how unexpected collaborations can lead to realizing ideas in a better way. Maybe a lot of good projects will be done in this way in the future, with experts in different fields getting together and sharing experiences and coming up with solutions.
The potential is incredible, and I think it showed in the Re:Move project.
Contact us to learn more about extruded aluminium solutions in your product design!