Design thinking
Textured 3D metal wallpaper
Why don't you take inspiration from the catwalk for your next interior project?
Ayse Bysanz' aluminium foil wedding dress is designed to make brides sparkle on their big day, however, for interior designers it can be interesting to see how fashion designers are experimenting with the use of materials to create new and unexpected effects.
This sparkling wedding dress is made from a patented woven aluminium fabric and has an amazing fairy-tale sheen in the way the material reflects light – in the same way aluminium can be used to capture and reflect the light within a room whether it is a hotel lobby, a coffee shop or an office building.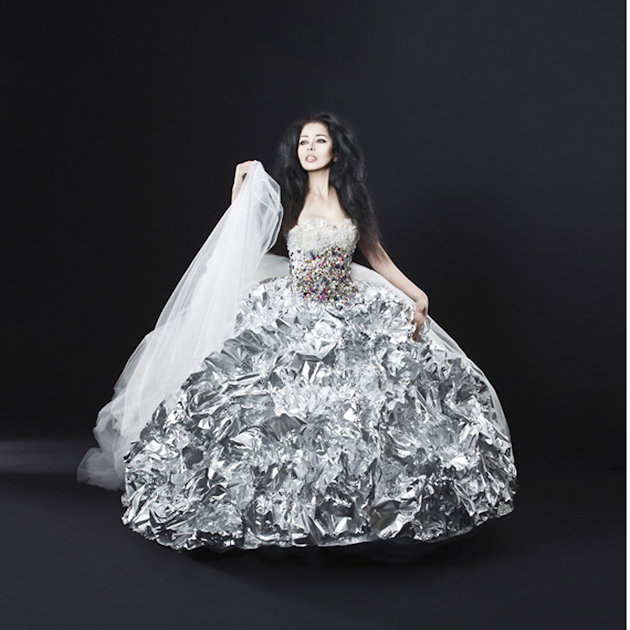 Metal in decoration
Increasingly, metal is used as part of interior design as wallpaper, desks, lamps, panels and ceilings, to name a few. In addition to steel and copper, aluminium is a beautiful material that is well-suited for interior decorations and structural designs.
Pleated aluminium forms, perforated screens or wrapped vertical aluminium strips are just examples of ways that this light metal is being used in modern interiors. Anodized aluminium also provides many opportunities to create an elegant and sleek look and feel to a room or a façade.
3D wallpaper with extruded profiles
If you like to use aluminium to create 3D effects in your next interior project, the sweeping feel of the wedding dress might trigger some ideas. It can also be a good idea to start to look at different manufacturing techniques and uses of aluminium when looking at the next interior trends for 2019. I think that both anodized aluminium and fabrication through perforated aluminium might get your creative juices flowing.
You can create a beautiful 3D effect if you mount extruded profiles vertically with different mounted profiles in different forms. 
Interested in learning more?
Contact us about how to use aluminium in your interior design!