Material properties
Clever use of aluminium keeps seat dry in wet weather
The task to design a product based primarily on the use of aluminium extrusions was presented to me by Northumbria University. After consideration, my intention was to redesign a park bench, allowing manipulation to reveal a dry seat in the event of rain, and ensuring technical and commercial viability.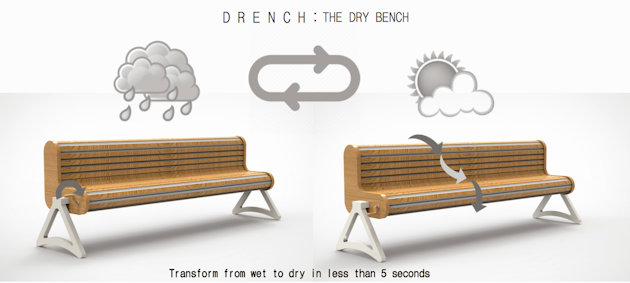 Outdoor furniture seemed an obvious choice due to aluminium's natural corrosion resistance. We all know how unpredictable and ever-fluctuating the weather in the UK can be. Therefore, I decided that the "Drench" – The Dry Bench – would be aimed at The Royal Parks and cityscape of London, an exploitable market which was clear due to its large market size.
Throughout the design stage, I worked in collaboration with Sapa (now Hydro) in the UK. They provided knowledge and guidance on designing profiles. I was amazed about how many additional fixing and joining methods could be eliminated or simplified by the clever design of the profiles.
During the design process, I saw a variety of problems that needed to be overcome. The main problem was the fact that a bench is a relatively large product, yet the maximum circumscribing circle for the die in the design specification was 300 mm. Meaning the legs, as well as other sections, had to be separated into three sections. Where by the design held the three sections in place and they could then be riveted together using three mono bolts.
The second problem with using aluminium for outdoor furniture is the metal's high temperature conductivity, meaning most of the time it will be either too cold or too hot to sit on, reducing user comfort. Therefore, the idea to incorporate wooden slats into the aluminium profiles for the seating area was adopted.
Ansys, a computer-aided engineering tool, was used to test and evaluate the structural stability of the design. The outcomes from this were that the aluminium alloy 6005A T6 would be used for the directly load-bearing features and that the alloy 6063 T6 would be used for the rest.
Upon completion, it became clear that the bench would be extremely appealing to government and councils, due to its ease of maintenance qualities and its durability in comparison to a standard park bench.
I discovered that creating a product that had to be separated into parts and which also contained no permanent bonding, became more of an advantage than a setback. Meaning those components such as the bench slats could be easily removed and changed if broken or damaged. Applying the same thinking to all exterior parts, such as the leg covers, was beneficial in terms of ease of maintenance, sustainability and cost reduction, because a whole new bench isn't required. If the product was to go out to market, I believe this would be the main selling point over the bench rotation.
Overall, the results were pleasing and the project as a whole was the most enjoyable during my final year studying product design engineering.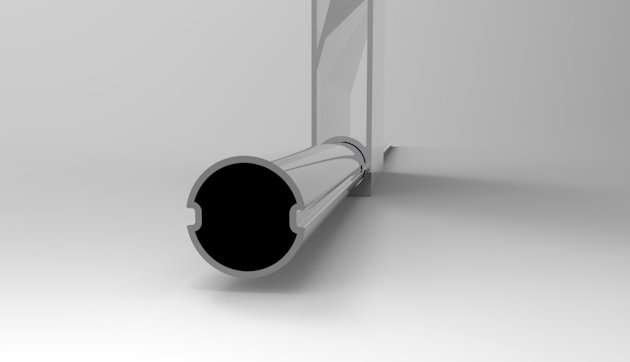 Interested in learning more?